Walking on top of the rainbow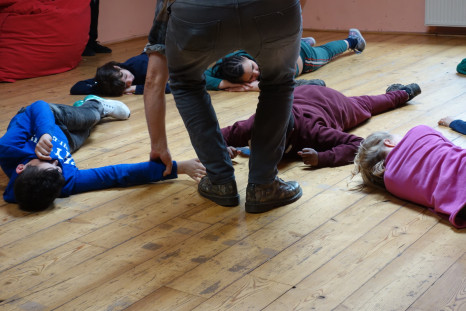 In 2019, Theater Babel Rotterdam was partner in the trajectory everyone is an artist, set-up by Dirk Monsma, former director of SKVR. In this trajectory, 8 youngsters from VSO De Hoge Brug took 3 classes in different art disciplines at 4 cultural locations in Rotterdam. The goal was to let youngsters for whom art is not very accessible, get into contact with different art forms and organizations.
The youngsters took theatre classes at Theater Hofplein, dance at Misiconi Dance, music at SKVR and movement theatre at Theater Babel Rotterdam under guidance of Bram Legerstee. At Babel the youngsters started, and at the end of the trajectory they returned: on Monday June 10th we organized a presentation at the Mathensserdijk 293.
Dirk Monsma wrote a report of the first session led by Bram Legerstee.
Walking on top of the rainbow
2019, March 29
Teacher Bram is waiting at the entrance of Theater Babel for the eleven students of three schools for VSO. They can have their lunch in the foyer. After that, they get to work. In the theatre space, chairs are set-up in a circle. Bram asks everyone's name and their favorite colour. The last student in the circle chooses gold, after a lot of blue, red and pink. Then, walking around the room and looking around if you can see things that don't belong there. Walking on the beach and through the forest and experience the difference. Then on the floor and sleep. Bram taps the children one by one on the shoulder and asks: 'What do you dream about?' After a zoo, amusement park De Efteling and a tiger, a boy with a blue sweater says: 'Walking on top of the rainbow and it's raining cheeze, or no candy.' You can keep on dreaming, says Bram.
Wednesday afternoon at 12:30, right after school, Jenai de Groot is already in the hall of the combination so St Mattheusschool / vso Rotterdamcollege to collect the students. A list with names and telephone-numbers of parents in her hand. The students who participated last time recognize her immediately and greet her with enthusiasm. The Buzz010, organized by KCR offers space for two classes and takes us to vso De Hoge Brug to collect three more students. Janai is a student from Hogeschool Rotterdam and is now an intern at SKVR. She watches everything, talks with the students and checks if everyone is having a good time. She will accompany the students for all twelve classes: three times movement theater at Babel, music at SKVR, theater at youth theatre Hofplein and dance with Joop Oonk. A visit of Maas Podium is also part of the program. And in the end there will be a festive closure at Babel, for which parents and other students are welcome.
One of the four boys is coming along for the first time. In the beginning, he is standing inconspicuously at the side, then comes cautiously towards me and looks at what I'm writing down. An hour later he participates. Bram is ending the class with statues. All children take a pose that corresponds with something they imagine themselves. Piano music by Schumann fits the scene. When Bram claps his hands, they stand up straight, at the next clap they are statues. On the rhythm of the piano. 'As a teacher, it's difficult that there are big differences between the students,' Bram tells us after class. 'When you work with adults with a disability, that's easier, as if the differences have already gotten smaller.' Me though, I was admiring the way Bram switched to another explanation when he noticed that someone from the group didn't understand a question or an assignment. A wonderful class!