everyone is an artist
What is your favorite color?
How do you walk in a forest, and how in a city?
In the trajectory everyone is an artist, 8 children from VSO school De Hoge Brug take weekly lessons in art organizations in Rotterdam. At 4 different cultural locations, they each time get 3 lessons: theatre at Theater Hofplein, dance at Misiconi Dance, SKVR teaches them music and at Theater Babel Rotterdam they get a taste of movement, taught by Bram Legerstee.
The project was set up by Dirk Monsma, former manager of SKVR. The aim is to give a taste of different art forms and art organizations to young students who usually don't have access to art.
The young students started off at Theater Babel, where they returned for the ending of the project: on Monday, June 10 from 1 to 3pm there is a closing performance in Theater Babel Rotterdam at Mathenesserdijk 293.
Dirk Monsma visited one of the classes of Bram and wrote the following article about it, in which he gives a unique insight in the work session:
Bram asks everyone's name and favorite color. After a lot of blue, red and pink, the last student in the circle chooses gold. Then, walk through the space and look around you. Do you see things that don't belong here? Walk on the beach and through the forest. What's the difference? Then lie on the floor and sleep. Bram taps the shoulder of a kid and asks: 'What do you dream about?' After the zoo, Efteling theme park and a tiger, the boy in the blue sweater says: 'About walking on top of the rainbow, and it's raining cheese, or no – candy!' Keep dreaming, says Bram.  
Read the full article (in Dutch) here.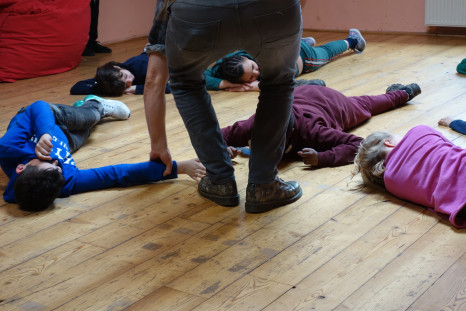 To get an impression of the closing performance at Theater Babel Rotterdam, browse through the pictures underneath.
education & emancipation in pictures