Inspired by the show Piazza della vita, journalist Willem Pekelder interviews some of the actors of our company. He does this with 7 questions about the show, about working inclusive and about the importance of theatre in their lives. This week in the spotlight: musician and performer Pascal.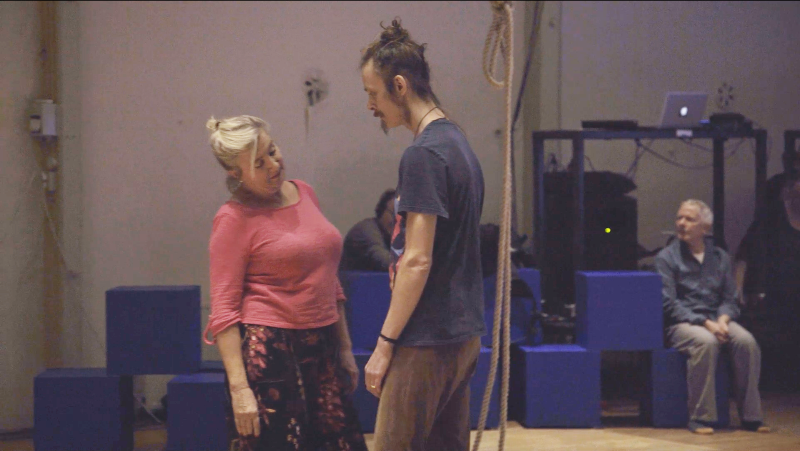 interview: Willem pekelder
picture: video registration piazza della vita by carel van hees
Since when are you part of Theater Babel Rotterdam?
"Now exactly one year."
What was the first production you performed in and what memory do you have from it?
"That was 'Het gedroomde café'. I remember how everyone immediately was very committed. There were no blockades, and that made it seem we already knew each other for years. For example, I felt free to tell my colleagues about the recent passing away of my sister in law. Normally I'm not that open, I rather wait and see."
What is 'Piazza della vita' about, according to you?
"About the contrasts in our society. One suffers and the other one is being immersed with love."
What role do you play?
"I take care of live music with my computer. I also improvise live. It's great to influence the atmosphere  in this kind of live performance. Next to that, I play an obnoxious man who doesn't have any respect for women, he thinks he can just grab them. The MeToo-story."
How do you like working together with actors with and without disabilities?
"Very much. It gives a lot of satisfaction to see what progress people with a disability can make when you treat them like a normal human being. I am also confronted with my own disabilities. I can worry a lot before I reach a conclusion, and still I don't always make the right decision. Because of the inclusive work I do here, I dare to dive into the deep unknown more easily. In the sense of: do it, and if you fail, try again later. My continuous urge to perform has become less. But I am more exhausted when I get home. Ha!"
How important is making music for you?
"It means everything. It's a beautiful way to express emotions without having to talk."
Also read the other editions of 7 questions for…