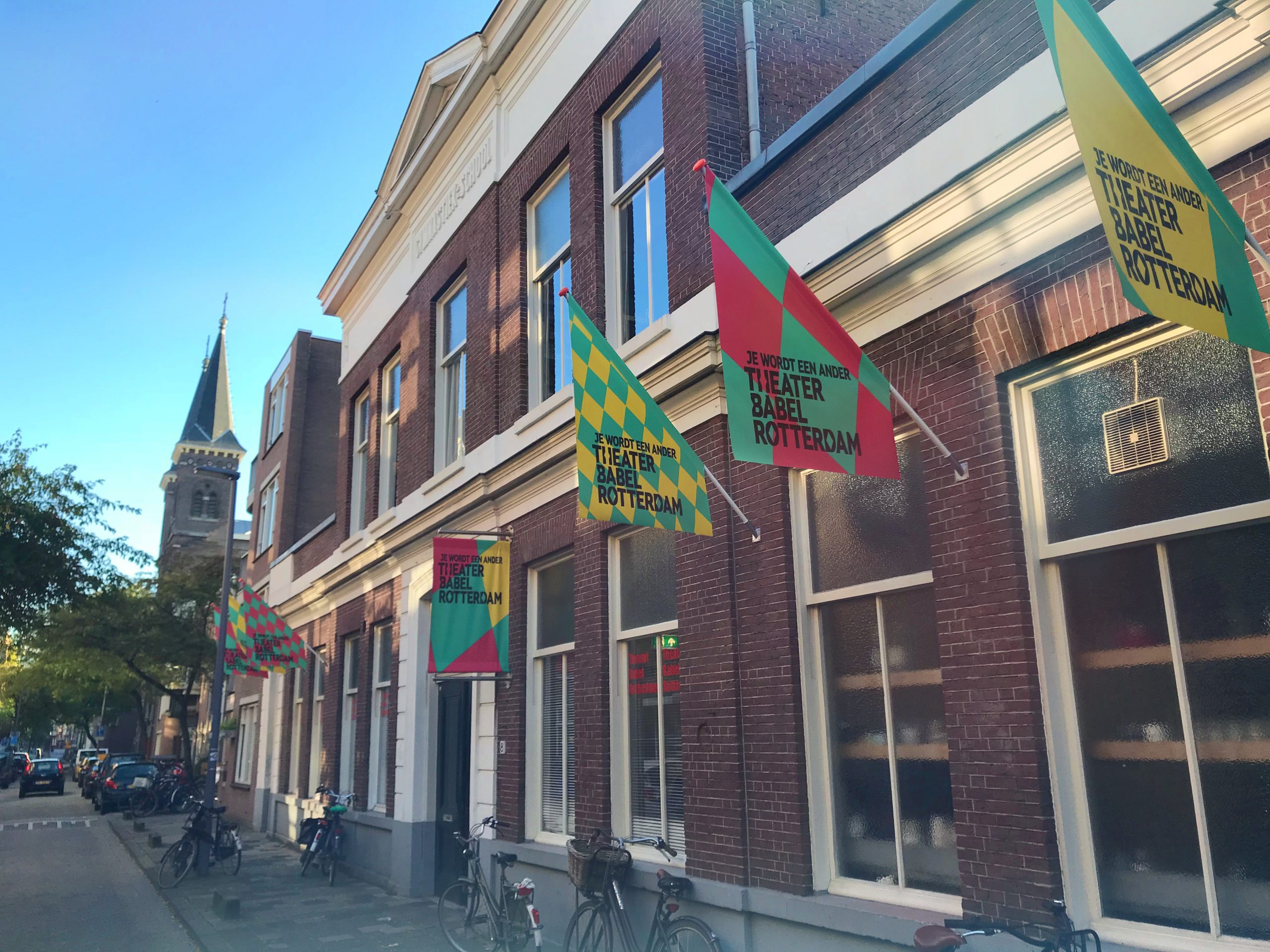 THEATER BAbEL ROTTERDAM HAS MOVED!
The past few weeks, rehearsals were cancelled because of the Corona-crisis, but behind the scenes we were able to keep working. We moved! After more than thirty years, we shut the purple door of the Mathenesserdijk 293 behind us, from now on Eendrachtsstraat 81 is our permanent base. It more or less already was, but now we've officially moved. To celebrate this new beginning, we renovated our big studio, so we can start up the rehearsals again with a fresh look.
Underneath here, you can read an interview with managing director Paul Röttger who tells us the how and why behind this move.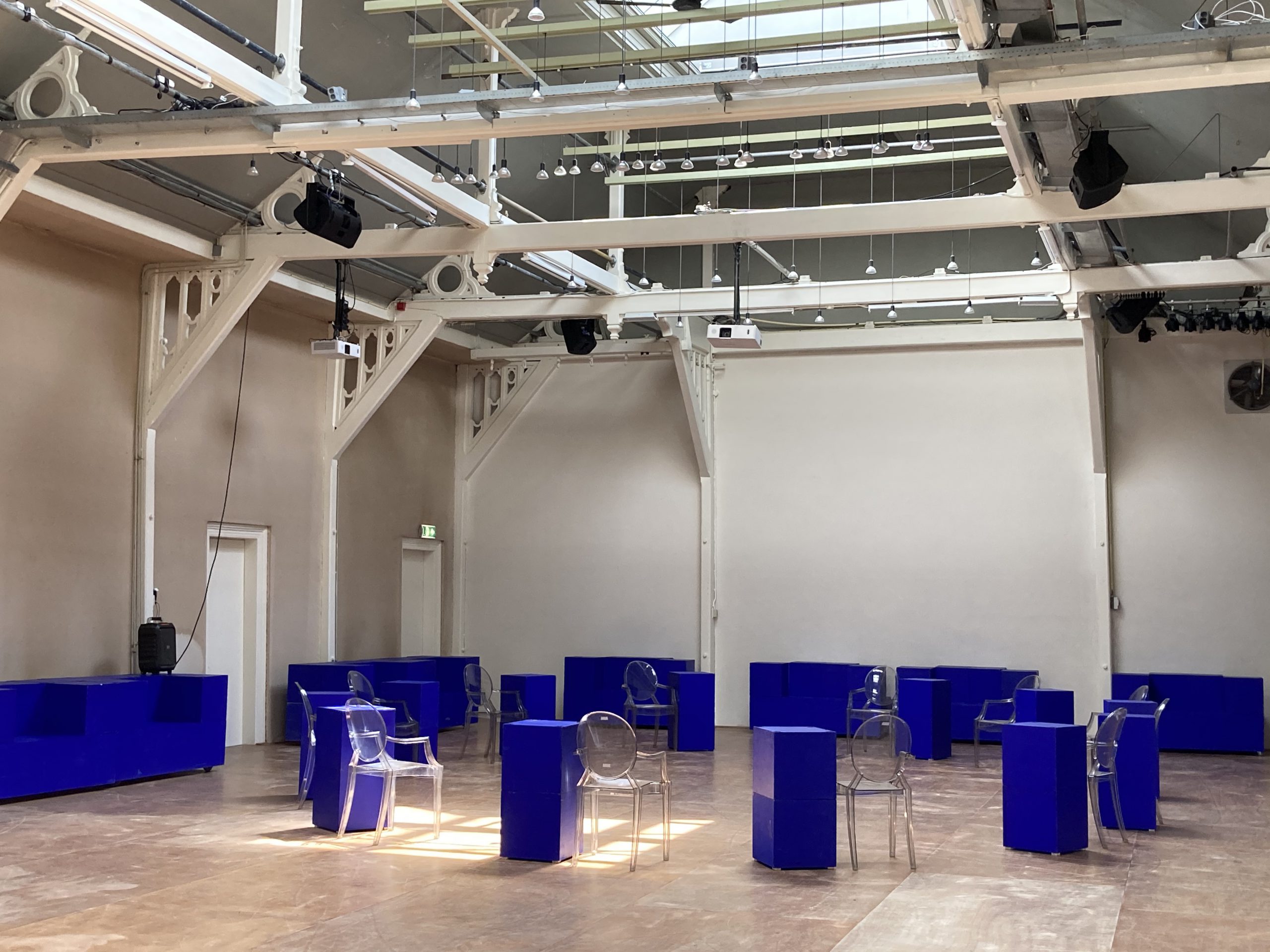 The renovated studio at the Eendrachtsstraat, ready for rehearsals at 1.5m
"Inclusive theatre has to be a part of the cultural landscape in the city"
interview with paul röttger
Dear Paul, imagine you are on the Mathenesser bridge, heading for the Eendrachtsstraat. You look back for one last time to the Mathenesserdijk. What do you see?
A building where Theater Babel and the former rcth have spent 32 years. We explored every square centimeter inside and out, and used it for classes, productions, projects, education, neighborhood activities. It's a marvelous property. I fell for the big spaces, the garden and the little patio. I look back at the building with a lot of joy and love. All those hundreds of students that graduated in performance and directing, all those exams, loves that emerged, divorces, discussions and wonderful encounters. Whole lives have taken place in there.
Why did Babel chose to move? 
Five years ago, we started working inclusively. Babel exists of more than 30 actors now, which is why we need bigger locations to perform and rehearse. That is how we ended up in the Eendrachtsstraat two years ago with the production Piazza della vita, in the former theatre of Bonheur. I participated in productions myself here, when I was younger. I was always in love with this place.
For Piazza, we rented the building temporarily. When our contract ended, we had the choice: stay at the Mathenesserdijk and divert to a different location per show, or make the Eendrachtsstraat our permanent base.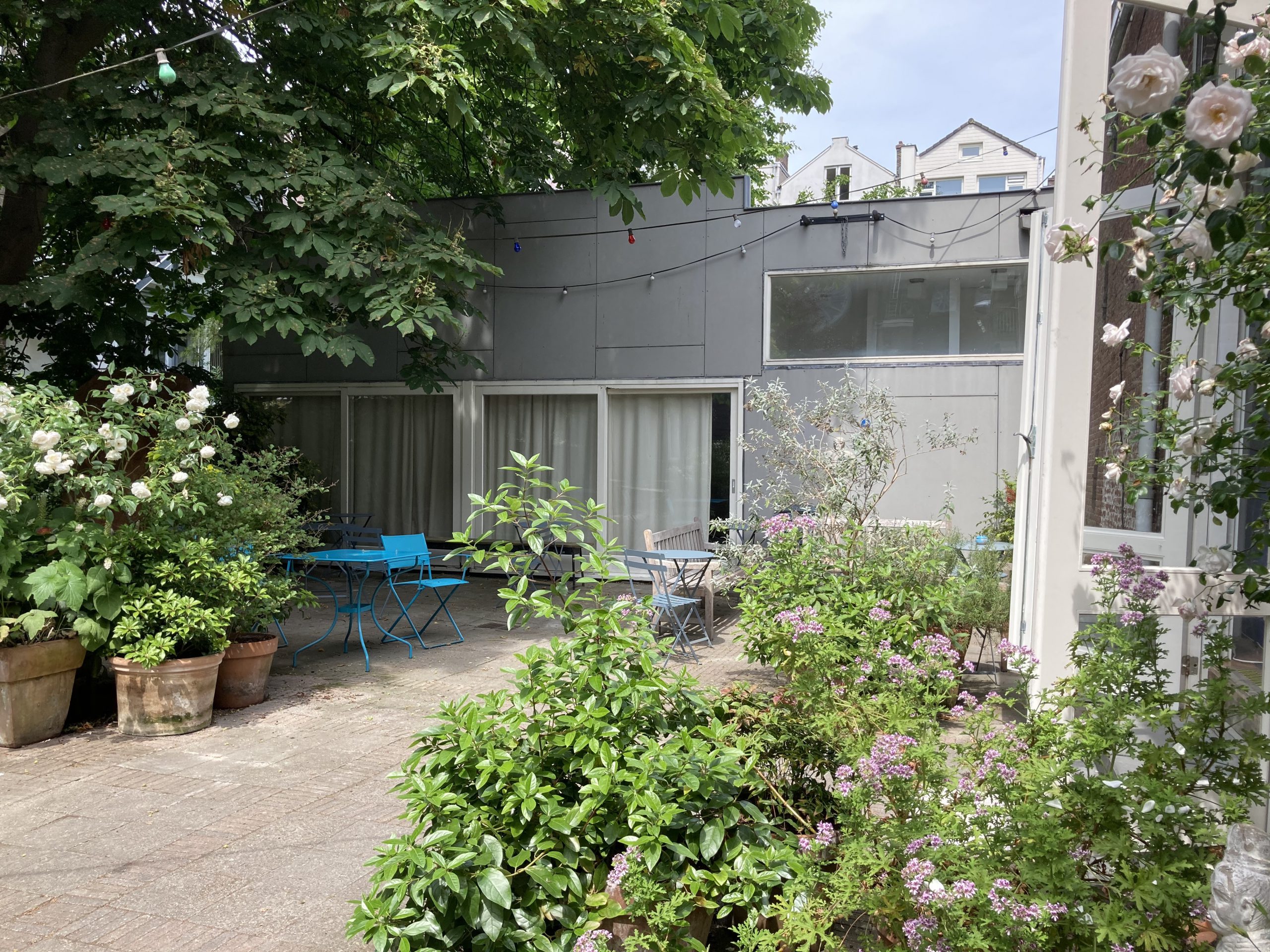 Our beautiful patio at the Eendrachtsstraat
The choice fell on the Eendrachtsstraat and meanwhile the Mathenesserdijk has been cleared out, the keys returned. What kind of feeling does that give you?
Emotionally, the Mathenesserdijk is connected to the rcth. We are saying goodbye to the building and moving into a new space that only belongs to Babel. It's good to be located in the middle of the cultural heart of Rotterdam, especially because we are an inclusive company.
Gevoelsmatig hoort de dijk voor mij bij het rcth. We nemen nu afscheid van dat gebouw en trekken naar een nieuwe plek die alleen bij Babel hoort. Het is goed om met Babel, juist omdat we inclusief werken, midden in het culturele hart van Rotterdam te zitten. Inclusief theater moet onderdeel zijn van het culturele landschap in de stad. We hebben goede contacten met onze culturele buren in de wijk. We gaan uit met collega's in de Witte de With, kennen mensen in de wijk, gaan uit eten in de buurt. Dat alles maakt het hier een prachtige plek.
Theater Babel was als Cultuurhuis Delfshaven lokaal cultuurcentrum voor Delfshaven. Wat gebeurt daarmee na de verhuizing?
Babel blijft die functie tot eind 2020 vervullen. Alleen zullen we niet meer werken vanuit het ene pand aan de Mathenesserdijk maar op verschillende locaties in Delfshaven.  
Het gebouw aan de Eendrachtsstraat heeft een kleiner aantal ruimtes dan de Mathenesserdijk, is dat een probleem?
De Eendrachtsstraat is als geheel iets kleiner, dat is waar. Daarom huren we de parochiezaal van de Waalse Kerk bij de Schiedamse Vest erbij. In het komende cultuurplan 2021-2024 onderzoeken we of deze constructie met twee ruimtes werkt of dat we toch op zoek moeten naar een groter pand in het centrum.