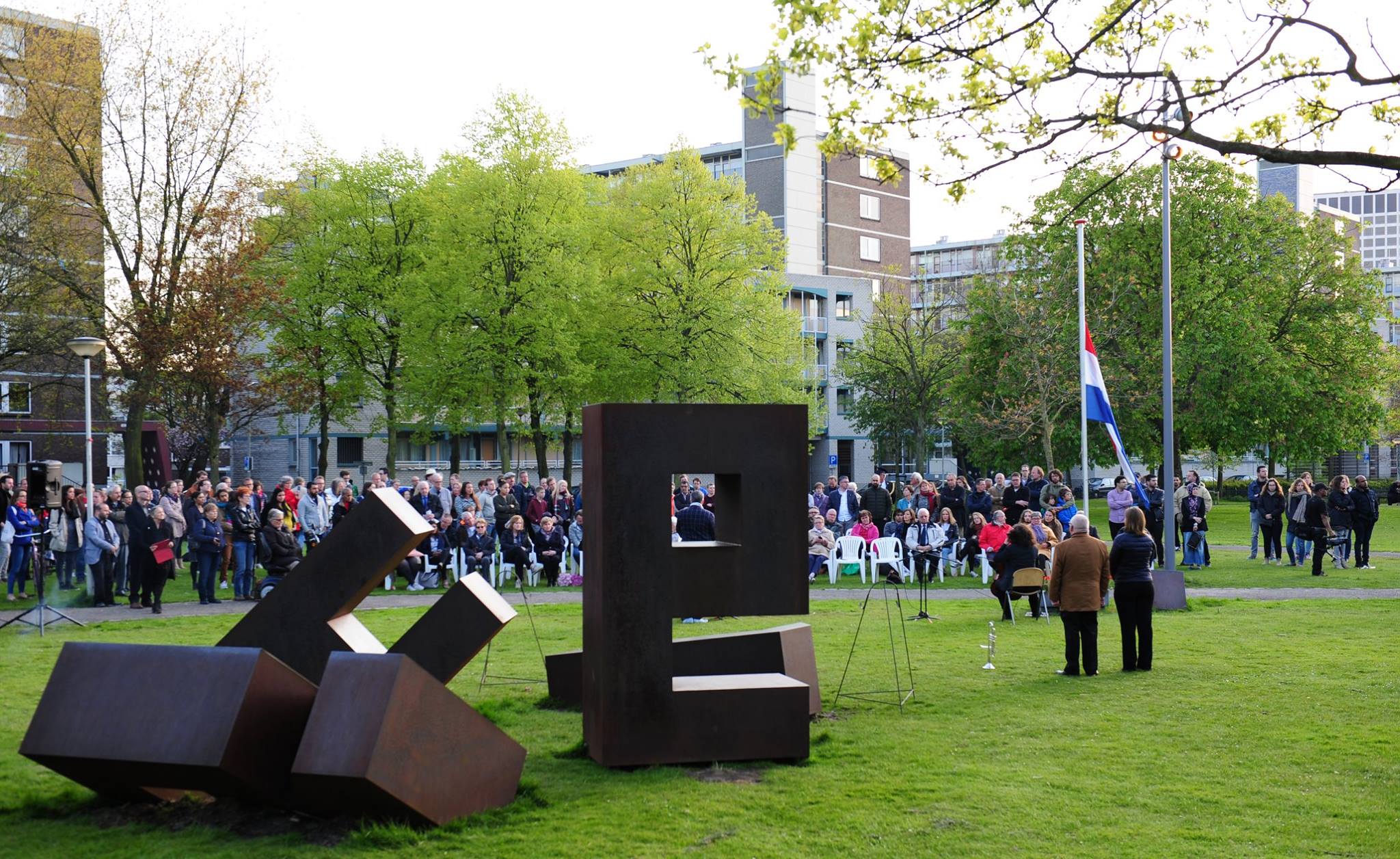 Culture House Delfshaven (part of the Rotterdam Centre for Theatre) was closely involved in the commemoration in park 43 Delfshaven, project leader Bram Legerstee was committed to complete the programming and to serve as a theatrical advisor.
Especially for this opportunity a poem was written.
33 bombers
March 31, 1943
Smoking ruins
burning houses,
impassable roads,
image of a Rotterdamsche quarter after the visit of British pilots.
A working class neighborhood,
densely populated,
consisting of tall houses with large families.
303rd BG (H) Combat Mission No. 27
31 March 1943
Target: Wilton Shipyards, Rotterdam, The Netherlands
Crews Dispatched: 20Crews Lost:
Lt. James R. Dunn – 7 KIA, 3 injured in bail-out
Lt. Keith O. Bartlett – 8 KIA, two uninjured in bail-out
Length of Mission: 4 hours, 45 minutes
Bomb Load: 6 lb x 1000 H.E.
M44 bombs
Bombing Altitude: 24,000 ft
Ammo Fired: 13,770 rounds
9:30 smelled smoke noise
15 minutes and 102 bombers as birds
heavily clouded
13:21
roaring sirens
appeared squads aircraft over the city,
overcast heavy winds
above target
13:29
13:30
13:31
Bombs,
Numerous houses were directly hit,
others were put ablaze.
70 bombs
Mathenesserweg,
Schiedamseweg,
Marconiplein.
From the windows that were shattered by the explosions, blew curtains that caught fire from flying sparks.
So hit the fire over from building to building, from block to block.
326 civilians
57 does not identify
400 wounded
16,000 homeless
the tramlines
2,
5,
8,
10,
11
and 16 had to be diverted temporarily.
The woman has strangely dry eyes, the man governs himself some more. When the smoking mess which was once a vegetable shop. They can no longer restrain themselves and burst into tears. And then come the stories. The married daughter lived here with her husband and two children. The children have been rescued, but the couple is missing. Chances are that they are buried under the rubble. The area is being cleared.
Park 1943
Smoke and dust clouds.
Now hang, where as before yet everything was quiet and peaceful.
Bram Legerstee