Since March 18, three new theater makers have been working at Theater Babel Rotterdam: Maria Sartzetaki, Otto(line) Calmeijer Meijburg and Saskia Meulendijks. They will be given the space and support to create their own inclusive project with the ensemble and guest performers from Babel. This way, Babel wants to actively distribute the inclusive work method in the theater sector. Shows have been planned for June 2021. Next weeks we will introduce you to the three new makers. Today: Maria Sartzetaki.
Maria Sartzetaki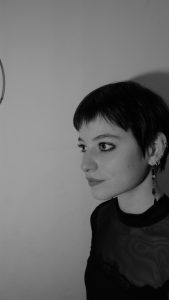 What is your background as a theater maker?
I come from Greece, where I started dancing since I was four. I briefly studied literature there, but I quit after two years to pursue dance professionally. I came to the Netherlands to study dance at the  Fontys Dance Academy in Tilburg. In 2018 I graduated as a choreographer and performer. My pieces have performed at Theaterfestival Boulevard and ITS Festival, among others. I am currently following the  Masters 'Artistic Research' at the University of Amsterdam.
Why did you choose to work at Babel?
I want to explore inclusive art. As a choreographer I have developed my own method, The Dreamstate of Movement. The Dreamstate of Movement explores how imagination can be the main trigger for physicality and the production of movement. This is why it is very open to different people and bodies, including people who are not trained as dancers. There is something rough about working with people who have no previous dance training because their reaction to tasks is more pure in a way and I like that. A collaboration with Theater Babel Rotterdam seemed like a great next step to me, since I have the opportunity to work with people who all have very different qualities, ways of thinking and backgrounds.
What do you want to research? How are you going to work?
My method is based on the use of imagination, this is its main ingredient. I study how people can make movement material by using imaginary narratives and how they can create a different reality or a dream world where they can step in and out of. One of my inspiration sources is surrealism and especially automatic writing. In automatic writing, you write whatever comes to your mind at the moment, you just let the subconscious take over and dive into an unfolding stream of thoughts. In most of my rehearsals I often ask the same from the performers, but with moving instead of writing. Another inspiration source for my work are the dreams of the performers. For example, the performer thinks about a dream they've had, in detail, and they give a physical response to that. When this happens continuously for a long time, then the performers are able to really create their own reality.
What do you find challenging about working at Babel?
I find it a challenge to constantly adjust to the energy for the group. Everyone has their own approach, their own way of picking up and using things. How can I respond to everyone's individual approach?
When has this project been successful for you?
When the performers reach a state, mentally and physically, that goes beyond reality as they normally experience it, beyond what they know. And when the audience feel invited to join us on a journey or a mystery, to wonder, to be lost. Like in a maze.
Want to know more about Maria?
Look here.