Since March 18th Theater Babel Rotterdam has three new makers at work: Maria Sartzetaki, Otto(line) Calmeijer Meijburg and Saskia Meulendijks. In the coming months they will get the space and support to make their own inclusive project with regular and guest actors of Theater Babel Rotterdam. In this way, Babel wants to actively spread the inclusive ideas in the theater sector. Performances are scheduled for June 2021. We would like to introduce the new makers to you, today: Saskia Meulendijks.
Saskia Meulendijks
Can you tell us something about your background?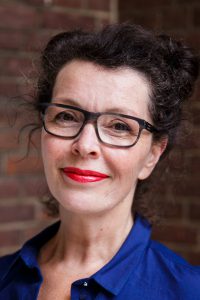 I come from the swamp of the Peel, from the small village of Vlierden. I am a native of Brabant, but my family also comes from Limburg, so I feel like a Brabants-Limburger.
My mother succeeded in bringing me up very culturally. I knew from the age of six that I wanted to be an artist. In 1985 I graduated from the Art Academy in Enschede as a scenographer.
In 1984 I came to live in Rotterdam and set up my own company there. At a certain point I was asked to help think about an exhibition at the Tropenmuseum. There I threw my theatrical skills into the fray and discovered that I could create theatrical performances in a museum, like static scenes in which the visitor is the main character.
That's how I started making exhibitions more often. But at some point I missed the theater. That's when I started the DasArts Master in Amsterdam. My graduation performance was in Theater Bonheur, the place where Babel is now.
What does this place mean to you?
This theater is a home to me. I have been involved in it as long as I have lived in Rotterdam. When Babel moved in, I went to see a number of performances. I found them very moving and sincere. And much needed. The public world is becoming more and more fake, as if we all want to fit into a certain image. At the MBO Theaterschool, where I now teach, I have already done a few projects on exceptionalists, because I think you should cherish everyone who is different. Babel does that too.
How did your current collaboration with Babel come about?
I was confronted with Babel again at the traffic light: I saw the posters with pictures of players and noticed that I started to wonder whether the player in the picture had a disability or not. I wondered how the students of the theater school would look at it. So the idea of bringing together the players of Babel and my students was born.
What do you want to explore in this collaboration?
My research question is: can you tell from someone's outside what they are like on the inside? Everyone has prejudices, and in my opinion you can only solve them by starting to talk and work together. In this project, I want the students and players to make costumes where they paint their own story on their dress, and then we use that to make a performance, or an installation.
What do you find exciting about working at Babel?
Like every person, I am dead nervous when I start something new. We live in a time where you don't know how to address someone, what words you can use to describe someone. But the only way to learn is to throw yourself to the lions and try. I, like everyone else, find it hard to make mistakes. You want to get it right. I think that's also really something of our time. That people don't dare make mistakes anymore.
When has this project succeeded for you?
When all players have learned or done something they were a bit afraid of and are proud of afterwards. When they have been able to take a new step. When it creates talking points that we can talk about with each other. When people have surprised me and each other. I already feel proud when I see it in front of me. It's all about making art together.
Want to know more about Saskia?
Look here.