What is Cultuurhuis Delfshaven?
Cultuurhuis Delfshaven is part of Theater Babel Rotterdam. But what is it exactly? We asked Bram Legerstee to tell us a little bit more.
What is Cultuurhuis Delfshaven?
Bram: "Cultuurhuis Delfshaven exists since 2011. Our mission is to connect people with art, even when they don't have much affinity with it. In other words, Cultuurhuis Delfshaven is a LCC: a local cultural centre.
How does Cultuurhuis Delfshaven connect people with art?
"We organize activities for, in and with the neighborhood, and we open up the doors of Theater Babel Rotterdam for our neighboring organizations. When they want to organize a theatre show, or they need a space for their meeting or drinks, they can come to us. And we are a connecting element for different activities in the neighborhood, like all kinds of festivals in Delfshaven. We are often involved in one way or the other in the organization of these festivals."
Can you give some examples of activities that Cultuurhuis Delfshaven supported?
"In December, a group of youngsters from the neighborhood knocked at our door. They wanted to organize their own festival for young people. We immediately welcomed them and gave them the possibilities to do this.
The same goes for the Women's Day that will be organized here on the 8th of March by a number of Moroccan women. It has become a real interaction: our Bob van der Lugt will direct their theatre show and the actresses will co-operate on the theatre ateliers with which Theater Babel Rotterdam goes to schools."
And what more does it bring Theater Babel Rotterdam?
"Through Cultuurhuis Delfshaven we help build Theater Babel Rotterdam's connection with the neighborhood. People get to know our theatre and the ideas our theatre group stands for. That starts with people knowing that we are here. Often they say: 'Theater Babel? Oh yes, the theatre with the purple door!' The neighborhood knows where to find us, and that is important."
Koning Winterdip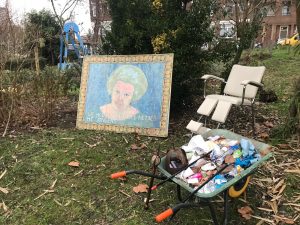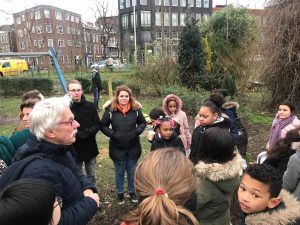 On January 26, Cultuurhuis Delfshaven presented the theatre show Koning Winterdip in Proefpark De Punt. The show was performed by an inclusive mix of young performers from the Valentijns school and actors connected to our company, directed by Bob van der Lugt, with assistance by the interns from Hogeschool Rotterdam.
Bram, who played the role of Koning Winterdip, explains:
"A show like this is a good opportunity to let children from the neighborhood get to know theatre in a playful way. But what makes it even more worth wile: you also reach their parents. They too get to know Babel and our inclusive way of working. And you bring people from the neighborhood together. An activity like this really works on many different levels."
Do you have your own plan or idea?
Everyone is welcome to knock on the door of Cultuurhuis Delfshaven with a plan.
For more information, you can contact:
Bram Legerstee – bram@theaterbabelrotterdam.nl
Bob van der Lugt – bob@theaterbabelrotterdam.nl
For more information about Cultuurhuis Delfshaven, click here.