"Very personal testimony
from transwoman in a
powerful community"
Review: Eva van der Weerd, Theaterkrant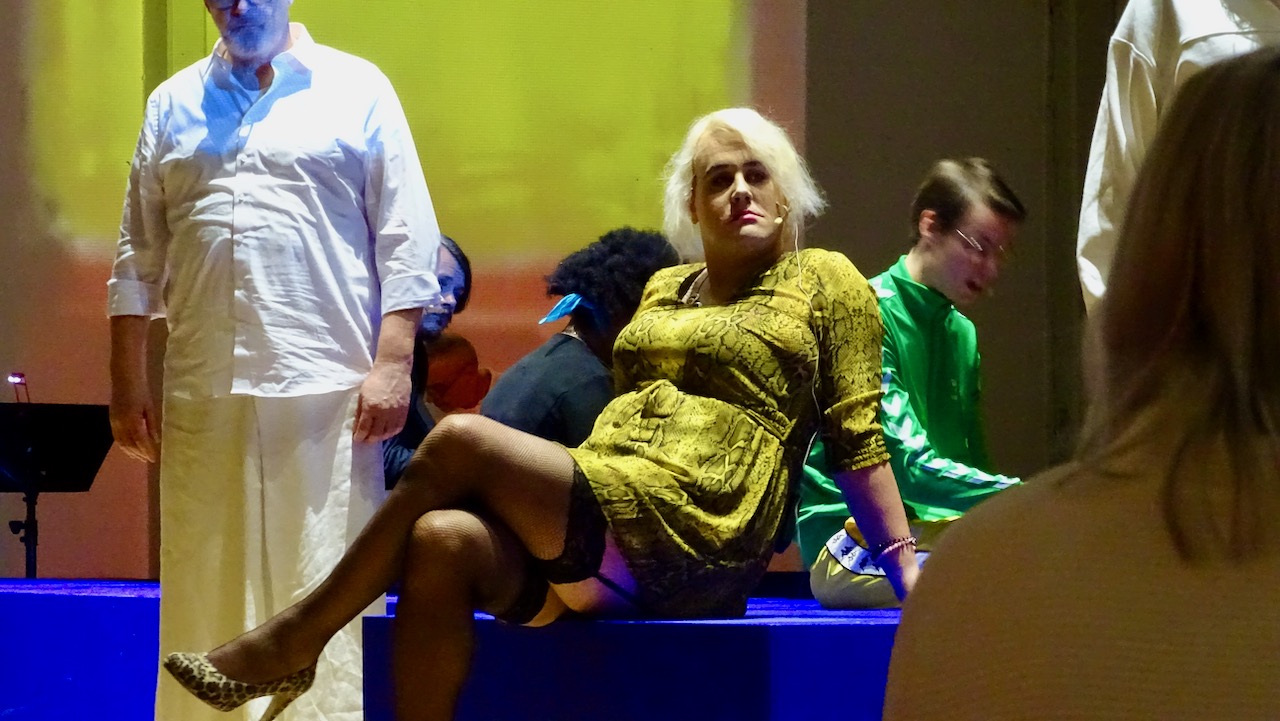 Inclusive theatre company Theater Babel Rotterdam is making a series of portraits of their actors, of whom most have a physical or mild mental disabilities. They kick off with the story of Jessica Vos, a transwoman with autism. In reality, we don't only see a portrait of Vos, but also the mini-portraits of the 33 singers and actors who she has a dialogue with. From J. to Jessica is not telling an individual story, but shows a colorful and powerful community.
The portraits of the actors and singers are not only drawn by bits and pieces from their life stories, but director Paul Röttger lets the faces of the group speak for themselves as well. Cameraman Corné Bouwmeester films all his fellow actors in close-up. The images are pure and show beautiful facial expressions, emotional when they tell personal stories, and in deep concentration when they are singing. Theater Babel has brought together a beautiful group of people.
In From J. to Jessica, the central theme is 'being who you are'. At present, Vos is in transition to become the woman who she is, and she wants to share her story. She re-enacts conversations with her parents, in which other actors play her counterparts. At the same time, images are projected on the walls of Vos' real parents. It shows courage and is touching. In the scenes between Vos and her mother, who stands up for her daughter but also mourns for the son Jessica used to be in her eyes, the warmth ánd the grief between the two women is very tangible.
In the meantime, other stories from the ensemble pass by. In every scene, the group of actors reacts to each other and shares own experiences. This way, you get an image of Theater Babel Rotterdam as a community: nothing is left unspoken, no taboo stays afloat. That's very powerful and liberating, especially when the group lays down close together, giggling, in the atmosphere of a pyjama party, and ask each other thorough questions about their sex lives. A lot of taboos are broken out of, with humor, but it also brings up very painful stories.
It doesn't feel appropriate to repeat every story and name in this review. The walls of the theatre feel like a safe space in which the audience is lucky enough to get an insight. The personal approach goes even as far as showing a slideshow of pictures from the youth of the actors, in the middle part of the performance. Even though this slideshow is a bit too long, it feels special to get a snapshot from their lives.
In the online lgbtq+-community, political correct expressions are changing all the time and you are expected to learn fast to keep on using the most inclusive terms. The expression 'to be born in the wrong body' as a description of transgenderism is in some groups completely obsolete by now, because not all people who are transgender want a (complete) transition. That makes it very remarkable when one of Vos' first lines in which she describes herself is 'I was born in the wrong body'. For her, this is a not disputable statement but die-hard reality. She feels she cannot change enough: Vos doesn't only want hormonal therapy and a sex change, but she also wants plastic surgery to narrow her jaw line and she wants to bring her hairline forward. In the end, she dreams about looking like a tattooed pin-up model.
When Vos describes her ideal body, she touches the core of the show. In the first part, other actors talk about their dissatisfaction with certain aspects of their body. Some don't like that they have a visible disability, others mainly want to lose a few pounds. This make the show question 'in how far you can or must accept what is given?'. This question is repeated to other aspects of identity, as learning to live with a disability or self acceptation in homosexuality.
From J. to Jessica is a show that transcends it's own theme. The theatre form shows that next to Vos' story, there are still many other interesting stories to tell. Stories from people who don't fit in their bodies in one way or the other, or in the straightjacket of society. It makes one curious to see the next productions in this series of portraits.
Read the original Dutch article here.