In his monthly newsletter "De Wereld van Willem", journalist Willem Bruring tips his readers about the cultural offerings in Rotterdam. Even though he has had enough of the cultural quarantine, Willem still visited the live stream of Ik via de ander. Below you can read what he wrote about it. You can register for his newsletter by sending an email to wbruring@xs4all.nl.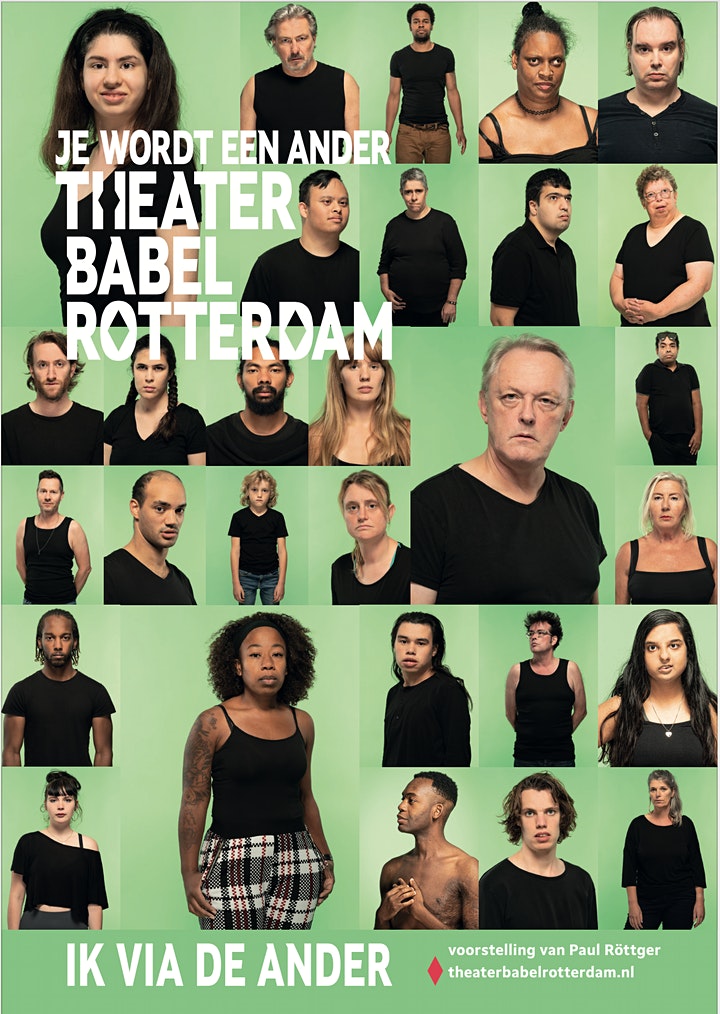 "One beautiful play after another. For years."
REVIEW WILLEM BRURING
"It is a pity that she has that disability," says a mother halfway through the performance, "otherwise she might have become prime minister". It is one of those moving moments of Ik via de ander, the new production of Theater Babel by director Paul Röttger. A very special performance, as you would expect from Röttger. After years of pioneering, his Babel is still the only theater company in our country that actually practices the concept of inclusivity. While others profess the necessity of it mainly on paper and in front of the microphone, he makes one beautiful theater piece after another with 28 actors with and without physical or mental disabilities and with different ethnic backgrounds. For years.
The ideas of the French philosopher Emmanuel Levinas play a central role in Ik via de ander. "By the look and face of the Other you yourself are made human" was the core of his ethical philosophy and Babel took it very literally. Paul Röttger interviewed mothers, brothers and sisters of his actors, playwright Erik-Ward Geerlings transformed them into monologues and six of the actors recite them. In better times it would have been on a couch with an audience in a kind of relay race, now it was via a live streaming, in a one-on-one showdown with the protagonist in question. The result is no less.
The stories of their relatives about them are told by the actors in an admirable neutral way, but it is not uncommon to see pride shining through. Especially when, for understandable reasons, Röttger says the text in a voice-over. Pay attention to the faces of the actors and you will immediately understand what this performance is about.