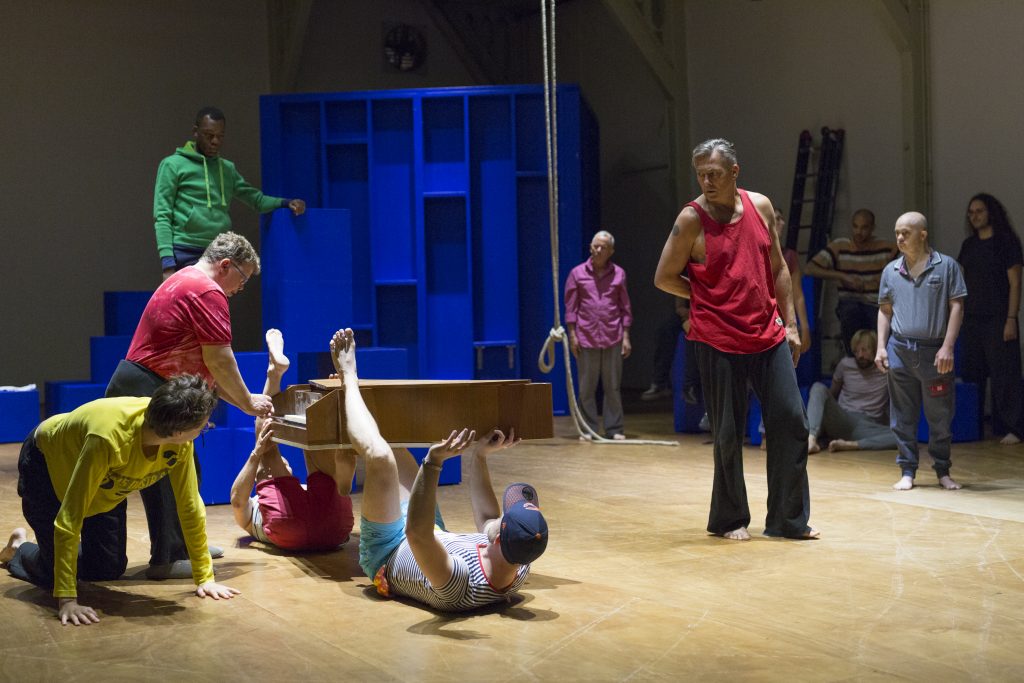 an inclusive feast of recognition
review: Jeroen van wijhe
picture: carel van hees
It's party time at Theater Babel. Paul Röttger is celebrating his thirty year anniversary as artistic leader with a special performance. In Piazza della vita – a 'square of life' – an inclusive group of actors passes us by. We witness how thirty-five people with different genders, ages, ethnicities and disabilities live together, share the same desires and run into the same obstacles.
Theater Babel, formerly known as Rotterdams Centrum voor Theater, performs its shows at a different location in Rotterdam each year. This time it's the former Bonheur Theater, a sun-drenched hall with a neighboring terrace and windows in the ceiling. One of the actors is singing, another is practicing his dance. Familiar faces receive a hug and sit down on blue cubes in the space. Then the windows are shut, the sunlight is replaced by theatre light and the performance starts.
Piazza della vita is very ritual. We forget the outside world for a while and enter a space without hierarchies. The room is 'cleaned' first with mops, and then explored by two actors with blind sticks. A series of lively scenes follows. There is flirting, playing, dancing, singing and fighting. A birth – or the detachment of the naval cord – is nicely made up by a boy connected to a woman by a rope. Once freed from the rope, she crawls into the ceiling and the boy is on his own. Actors walk around with roses, leaves and false teeth to get acquainted with the audience and each other. One woman seductively pulls off the shirt of a fellow actor and then resolutely chases him off. A shrill sound makes that the whole group runs on stage and spontaneously starts to dance. All of this with an ongoing 'soundtrack' of singing. One after the other, the performers stand in front of a camera and sing in a made up language.
To my right side, there's a big inclined plane, that is climbed by different performers with varying success. It gets a religious connotation when one of the actors is standing on the top in his underwear and takes poses, and notices that the group underneath him, is imitating him. This Jesus figure fits the Western ideal of beauty perfectly: young, male, white, thin and a body without visible disabilities. Behind him, projections of the singers are visible. They cannot or don't want to live up to this norm. We hear all kinds of sounds – from accomplished opera singing to careful mumbling, but the most interesting are the untrained facial expressions that give away shyness, fun or tension. The imperfections are much more exciting than the pre-determined norm.
Piazza della vita is playing around with this thin line between conventional and non-conventional beauty, acting and honest reactions. When an actress and her co-actor tumble down the slope, there is no acting when she is laughing loudly. When an actor is offering false teeth but gets rejected, the pain is tangible. The performance is about fears and desires we all have felt once. That makes this jubilee celebration a feast of recognition.