A theater production by Paul Röttger
A contemporary translation of Romeo & Juliet shows how our society still influences our love choices and possibilities, especially if you are 'different'. The performance revolves around the central question: are you allowed to love who you want to love? Abrasive themes of identity, murder, rejection and sexuality are questioned and challenged in a multidisciplinary performance with live music and projections.
Imagine being different.
Imagine having a disability.
Imagine having to hide who you are.
because you can't be in love with someone of a different faith.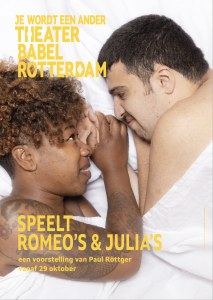 In this theater play, director Paul Röttger puts painful inequalities within our society under a magnifying glass, which not only people with disabilities suffer from. In the performance you see scenes from Shakespeare's classic play, alternated with personal stories from the actors of Babel. You see and hear how the actors struggle with many of the same problems in their own environments. Longing for someone, being in love with someone, not being allowed to be in love with someone, not being allowed to sleep with someone; these are the topics the play is full of.
interview with director Paul Röttger
Paul advocates for the importance of these issues and for them to be discussed in the theater and beyond:
What makes Romeo and Juliet still so relevant in our present time?
[…] I think Romeo and Julia is a harrowing story. It makes it very clear that others determine how you need to live your life. I think that society is becoming so tough on each other and I thin that the differences between people are increasing, which means that the opportunities of life are distributed less and less fairly. Many of my colleagues have to deal with the fact that others often decide what they can and cannot do, where they can and cannot live, because many of our players are people with disabilities. In addition, sexuality and identity are still a big taboo for many people in the healthcare world.
You can read the rest of the interview here.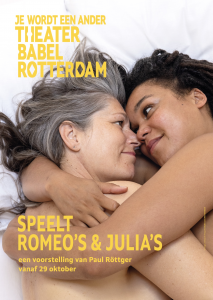 The world has many tragic stories of Romeo's & Juliet's. Babel shows several Romeo & Juliet couples with this performance. Because love is for everyone. You can see this not only in the performance itself, but also in an open-air exhibition throughout the city of Rotterdam. From October 3rd, Rotterdam will be littered with beautiful pictures of all kinds of love couples played by actors from Babel. Sensational and taboo-breaking, but above all hopeful and loving.
From a hall-wide balcony, the audience watches the performance and live projected images.
The Babel band provides the performance with live music.
Afterwards, our players will serve an organic and vegetarian meal included in each ticket.
---
'Theater Babel plays Romeo's and Juliets' is dedicated to Fons van de Moosdijk,
an actor at Babel who passed away in July 2022.
---
exposition in cooperation with Atelier Herenplaats
In collaboration with Atelier Herenplaats, an exhibition specially curated for the performance can be visited after the show. The exhibition features art by artists with disabilities from Gallery Atelier Herenplaats based on the themes of identity, falling in love, sexuality and not being allowed to live the way you want.
About Atelier Herenplaats
People with visual talent and a mental disability or psychiatric background are hardly ever admitted to the regular art academy. Herenplaats has developed an adapted art course for them. Lessons are given by visual artists and art teachers. Once they have successfully completed the academy, they move on to the artists' collective.