"VERY PERSONAL TESTIMONY FROM
TRANSWOMAN IN POWERFUL COMMUNITY"
"JESSICA VOS IS PEFORMING LIKE A STAR"
"CANDID AND STRAIGHTFORWARD"
"THIS PRODUCTION IS ANOTHER PEARL"
"INCLUSIVE THEATRE SHOWS HOW YOU CAN LIVE TOGETHER"
Click here for a news item by Koffietijd / 5 Uur Live (RTL 4). 
"Why can't I be who I want to be?"
The story about Jessica,
transgender and actress at Theater Babel Rotterdam.
She brings her story openly, with nothing unspoken, volnurable, not avoiding any taboos.
Her fellow actors are inspired by her story.
They as well turn themselves inside out with straight-forward, vulnerable and (un)usual confessions about their youth, sexuality and about who they want and not want to be, and about who they can and cannot be.
A production with old and contemporary vocal music by a choir of 34 actors with and without disabilities, surrounded by a spectacular 360 degrees projection.
From J. to Jessica is the first in a series of five portraits from an inclusive society.
Paul Röttger, general manager of Babel and director of the production stands up for everyone who gets put aside by society. Writer Erik-Ward Geerlings develops a theatre text, based on conversations with and improvisations by the actors.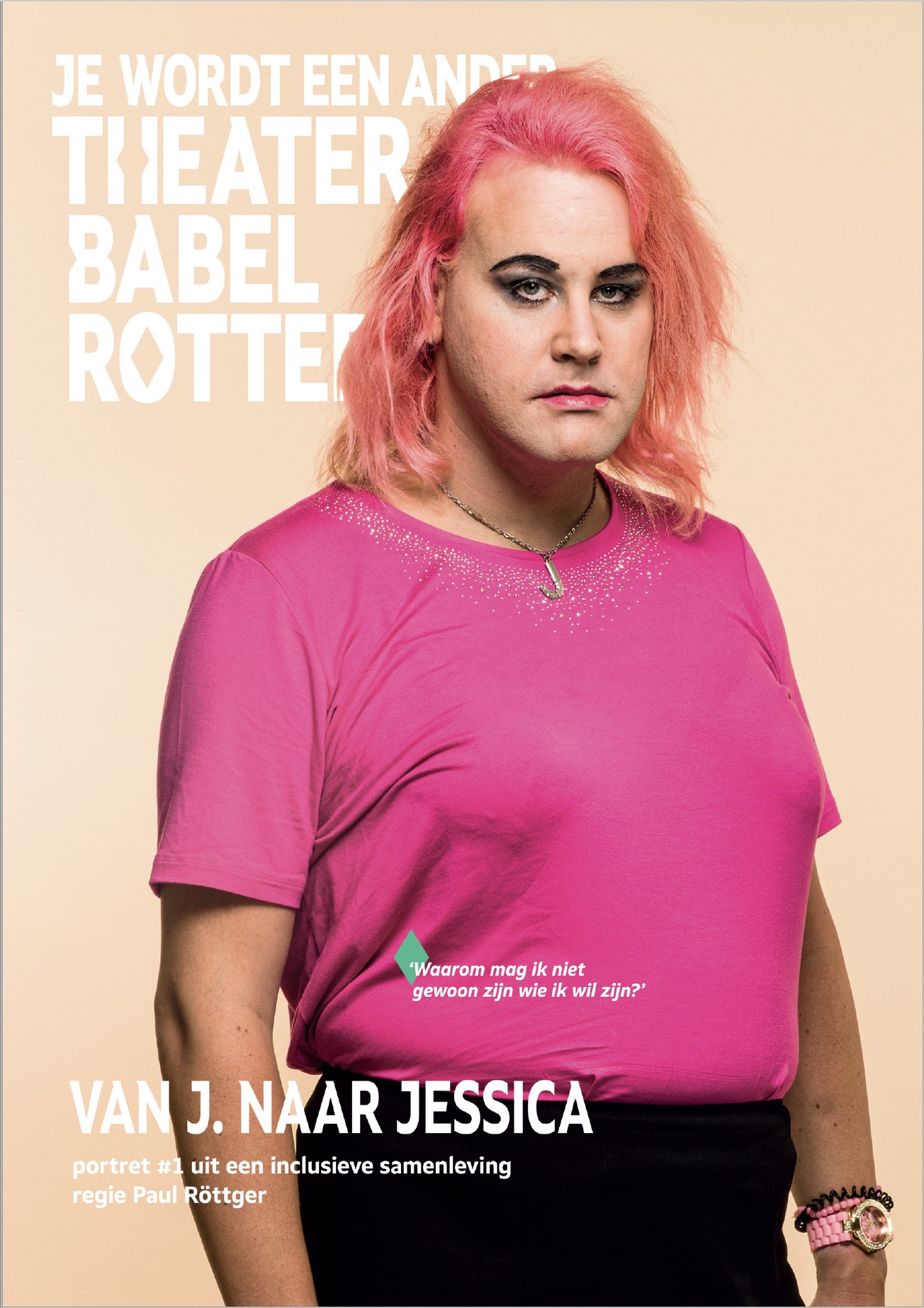 interview Paul Röttger
by Willem Pekelder
On November 23rd, Theater Babel Rotterdam premieres with 'From J. to Jessica'. A unique production in which leading actress Jessica shares her transition from man to woman with us, a transition she is going through in real life as well. As always, actors with and without disabilities are performing on stage.

An interview with director Paul Röttger by Willem Pekelder.
How did 'From J. to Jessica' come about?
"Over a year ago, a young man knocked on our door because he wanted to be an actor. He took some lessons and proved to be very talented. Quite soon it became clear that he wanted a transition from man to woman. This evoked the idea to make a play about this process. That's why it's called 'From J. to Jessica', in which the 'J.' stands for her boy's name, a past that Jessica wants to leave behind definitively."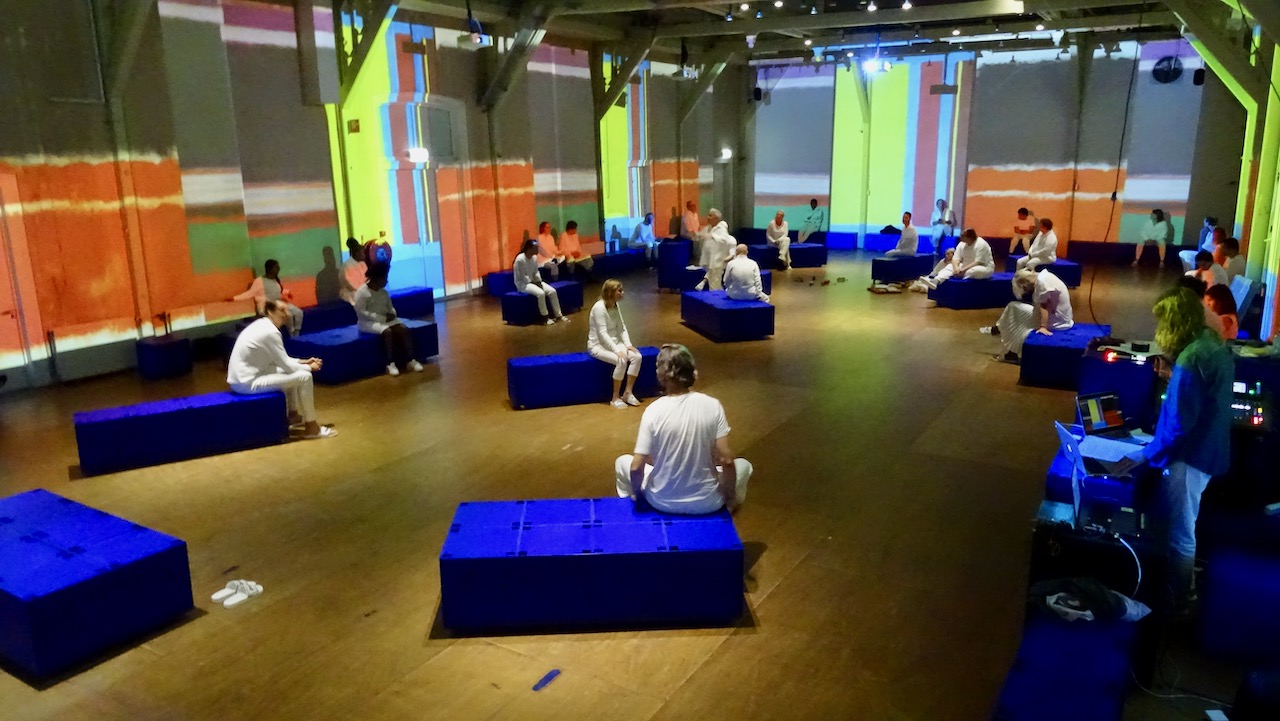 Jessica's transition symbolizes more than a personal story, according to you. Why?
"Certainly, it's about the question: can you be who you want to be? Man, woman, heterosexual, gay, low or well educated? This question is asked to all the actors and sometimes evokes painful, traumatic stories. People with a disability are even more often than people without a disability denied the life that they want, because others determine it for them. Next to that, we are always looking for humor, because it often helps us to survive." 
The poster for the production is pretty confronting, just as some of the personal stories. That could evoke raw responses.
"We are used to that. For years, we have been performing in schools in Rotterdam, with themes as poverty, language, drugs and sex. It happens regularly that young people react very negatively to our actors with disabilities. Many of them never saw 'someone like that' before. My opinion is that an artist has to confront the audience with what they don't know or don't want to know. Writer Erik Ward Geerlings and I developed the script based on interviews with the actors, and they didn't silence themselves about anything. In an open society, I think you can share and the good and the painful of life. At Theater Babel, we do this in a safe and personal surrounding."
How does Jessica feel about sharing her transition with the audience?
"Jessica wants this very clearly, because she thinks with her story she can help other people who are thinking about a transition."
Is it a risk to let people with a disability perform so openly?
"All my life, I've been making vulnerable theatre, even when I was still working with actors without disabilities alone. I don't see much difference. Moreover, people with a disability are more open, more direct, they are less burdened with shame. They know very well what they want or not. I have been making inclusive theatre for five years now, and I'm starting to feel more bothered by people without disabilities."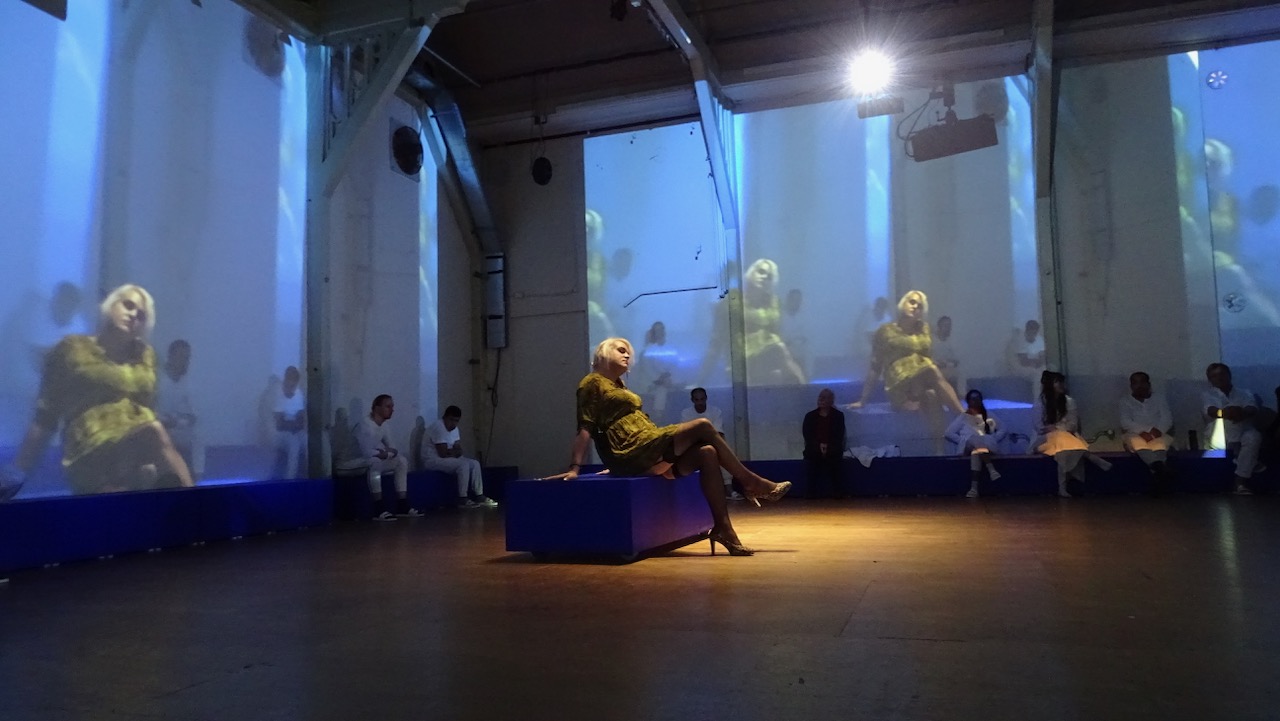 You never want to work without people with disabilities again?
"Indeed. These people have enriched me enormously. They help me be who I am. Thanks to them, I became more aware of my own disabilities, like my problems with civil morality and the reigning order. Thanks to them, I dare to stage my resistance to developments in society more than I used to. Just because these actors are 'different'." 
The 'other' has always been a thread in your career?
"That's right. The first play I directed at was then called Rotterdams Centre for Theatre, was 'The others' about the persecution of homosexuals in the Second World War. I want to work on a society in which the other is seen and recognized, whether it's an addict, someone who's sick, an older one, a refugee or a transgender. We have to get to know each other, so misplaced moral judgements can be dropped as a consequence. This production is the first in a series of five portraits inspired by life stories. The upcoming five years Theater Babel will start from the biographies of one or two actors." 
How does making theatre enrich the world of the actors with a disability?
"We are always talking about the participation society, but who has ever seen a person with a disability in an orchestra or on stage? While they are or can be very professional artists. Because of their disability, they often have an other sense that is more developed than ours. People with a visual disibality often can hear very well. My goal is that in five years time, people with disabilities will be performing at Theater Rotterdam or dancing with Conny Janssen danst. Our actors used to be occupied with daily activities, while art is their profession. To be seen, to be applauded, that is their life."
Which role do singing and music play in 'From J. to Jessica'?
"To bring comfort. We perform old and modern classical music and singing. We have a choir of twenty singers that will perform soli by the medieval mystic Hildegard von Bingen, amongst others. It's beautiful, harmonious music that softens the harsh reality on stage, and it offers the audience the chance to reflect."
Are you a world improver?
"Eh… yes, you could say that. I want to make the world more fun, a bit more beautiful and better. So that everyone can be who he or she is."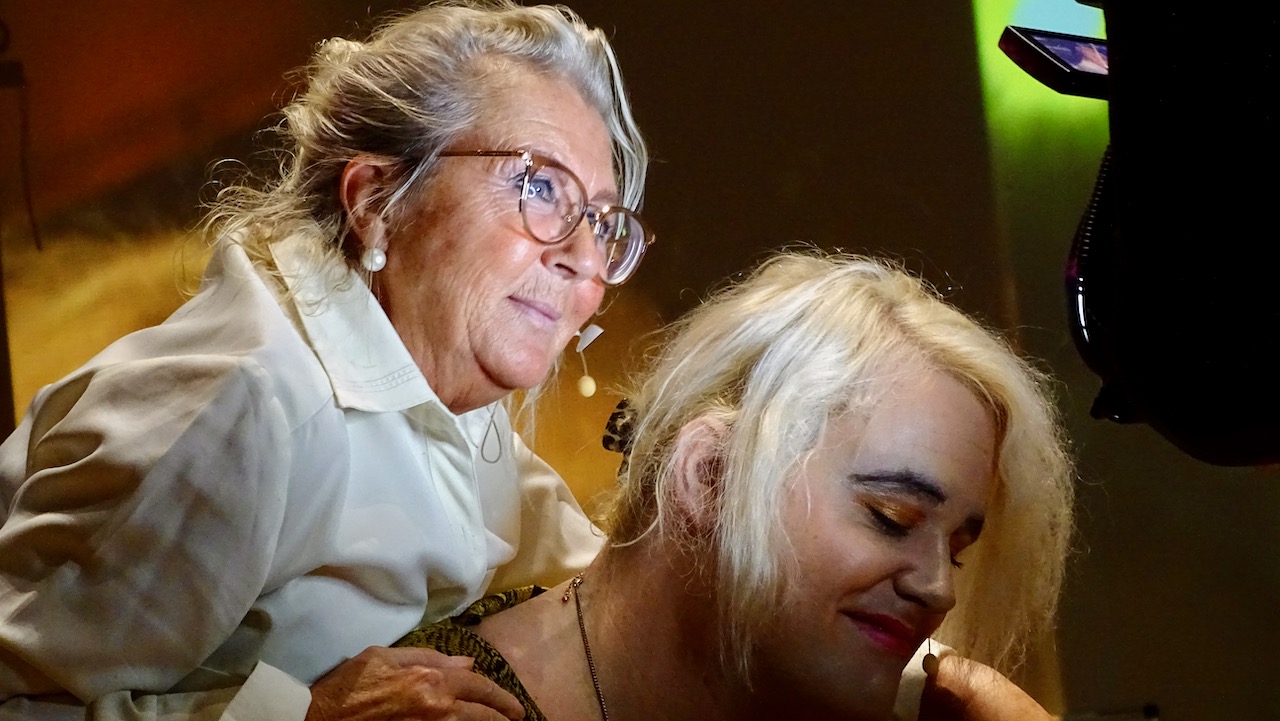 Performance dates:
Saturday, November 9 – sold out
Saturday, November 23 – sold out
Saturday, November 30 – sold out
Saturday, December 14 – sold out
Saturday, February 8, 2020
Saturday, February 15
Saturday, February 22
Saturday, March 14 – cancelled
Saturday, March 21 – cancelled
Saturday, April 4 – cancelled
Saturday, April 18 – cancelled
Friday, April 24 – cancelled
Saturday, April 25 – cancelled
Sunday, April 26 – cancelled
Start at 5pm
tickets
€ 20,- including a vegetarian & organic meal after the show.
Location
Eendrachtsstraat 81, 3012XH Rotterdam
The inclusive work and research by Babel is supported by: Stichting Doen, Gemeente Rotterdam, stichting Bevordering van Volkskracht, Lirafonds, stichting Pameijer, VSB fonds, NSGK and HandicapNL.
Partners of Babel
Continuüm, D66 Rotterdam, De Kringen, Diversiteit in bedrijf, Fontys Hogeschool Rotterdam, Hogeschool Tilburg, Jong in Arnhem, Lkca, Moois TV, Movisie, Stichting Genderwende, T-Nederland, Trans Magazine, Transgenderinfo.nl, Transgendernetwerk, Transvisie, Vereniging genderdiversiteit.